How do I return products?
Returns are accepted up to 30 days from the original purchase date. Requests made after this timeframe will not be approved. We do not refund opened, altered, discounted (these are final sale), or damaged products.
Returns are allowed once per order. Please make sure you return all parts at the same time. Once the return process is complete, you will not be able to request another return under the same order number.
Return Process
1. Log in to your online account and find the order number that matches your request. Click on the "Return Items" link on the righthand side.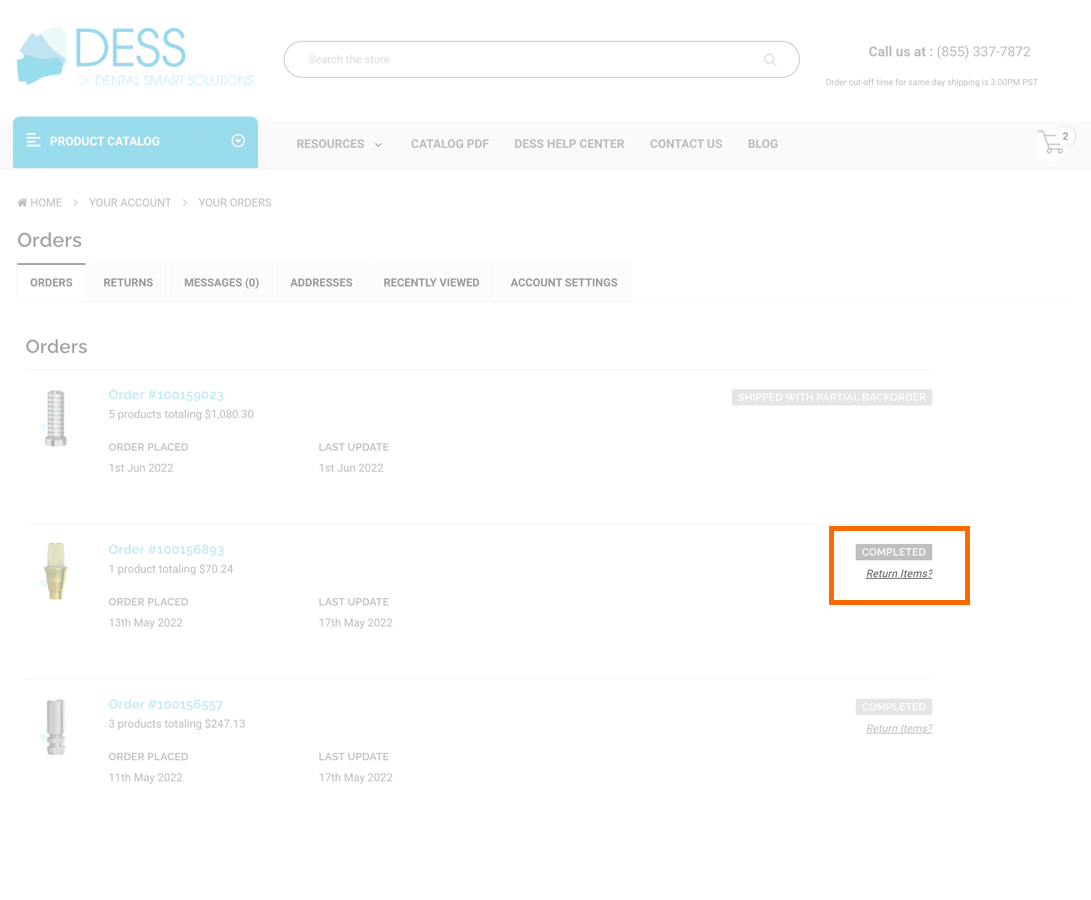 2. This will take you to the Returns tab. Select the quantity of each item you would like to return and the reason for your request. You may also enter information pertaining to your request in the comments section.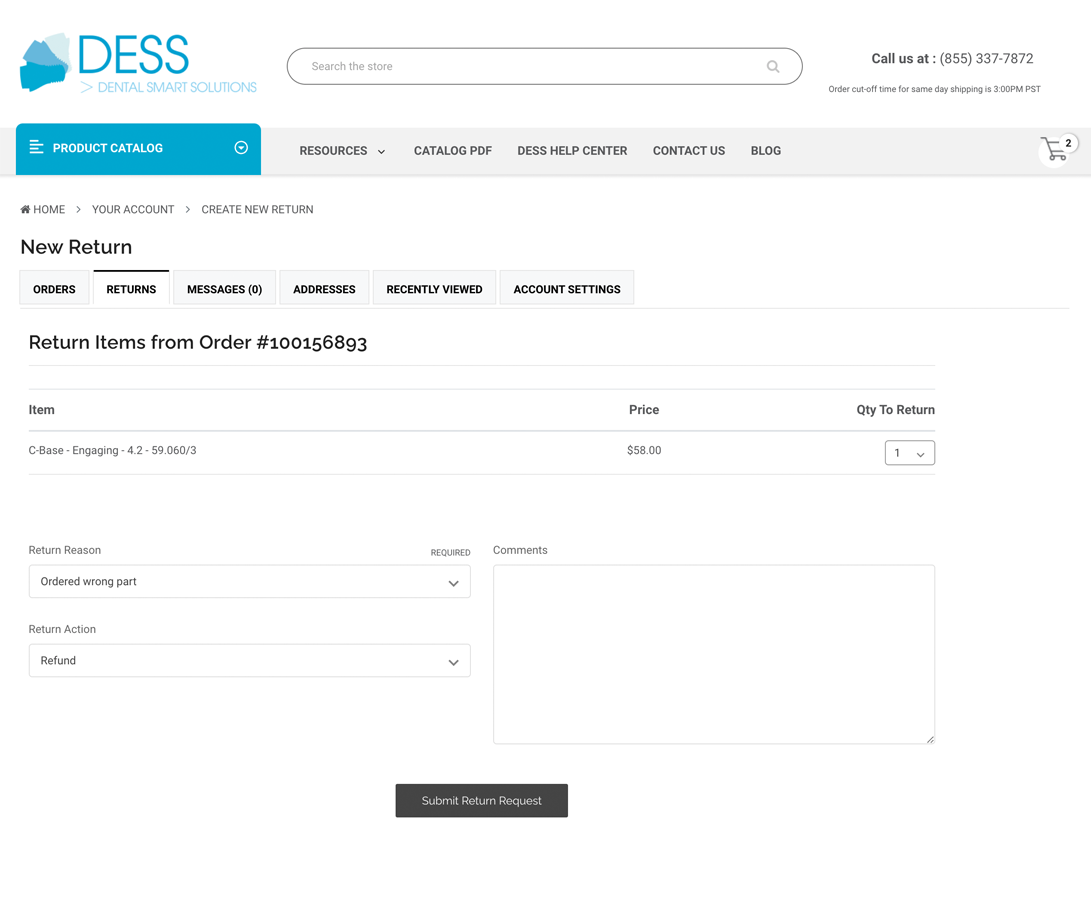 3. After you submit your request, ship your returns and order invoice/packing slip (refunds will not be issued if these are not included) to:
DESS-USA
Attn: Returns
10765 Double R Blvd
STE 200
Reno, NV 89521
Once we've received your items, an email will be sent from orders@dess-usa.com confirming whether your request was approved or rejected.
DESS-USA Return Policy
PRODUCT CONDITION
Products that are not defective in material or workmanship and product packaging is unopened or unaltered may be returned. Products that have been in clinical uses cannot be returned for credit. We cannot accept returns if the product packaging was opened, glued/taped back or if there are any marks or writing on the product package; if there is ANY alternation to the condition of the product packaging whatsoever, parts cannot be returned for a refund or credit.
SHIPPING RETURNED PRODUCTS
Customers are responsible for the cost of shipping back the returned items. This includes any postage due at the time of the delivery to us. Should any package require postage due when being delivered to us, we will refuse the package and it will be shipped back to you. DESS is not responsible for any packages that are lost or damaged when shipped back in these circumstances. Products that are returned unopened or altered, but have been damaged in shipping are not refundable. We will notify you via email from orders@dess-usa.com if this happens at which time we can ship the items back to you at your expense.
If you would like any of the non-refundable parts back for future use, you will need to provide us with a return label within 30 days of the date that the non-refundable parts email was sent to you. We can only ship via UPS. We will not be responsible for any damages to the products or shipment. We are also not responsible for any loss of the package, damage to the package, packages that have been opened, or the contents of the package. Please contact the shipper regarding this situation.
We will only credit you back for what was physically received in the unopened, undamaged product package. If there is a discrepancy between what you claim was returned and what we actually received, we can email you a picture of the unopened or altered products. We can only credit you back for what we received in good/unaltered condition.
OPENED PACKAGES
We are not responsible if the part is opened. You receive multiple emails, shipping invoice, and product catalogs (both physically and online) that contain our part and reference numbers so if this is the incorrect part you can make the decision to not open it. Please confirm that the part you purchased and have in your possession is the correct one prior to opening the product.
ACKNOWLEDGEMENT AND CREDIT FOR RETURNS
Once we have accepted your return we will send you an email from orders@dess-usa.com to your account email with the order number, the component SKU and quantity, and the amount of the credit which will be credited to your credit card used for the purchase.
The refund will also appear in your order history. This will show the amount refunded for your returned items.
Once you receive this email it can take between 1-3 business days (excluding weekends) for your credit to appear back on your credit card statement.
Please check your emails regarding the returns.
It can take your bank/credit card company between 2-4 business days to post credits back to your account.
If after 5 business days from the date of the email we sent you if you have not received credit please notify us either through online chat or email service@dess-usa.com and we can assist you.