Understanding Multiunit Abutment Tops
Platform Dimensions
DESS® multiunit abutment tops come in two sizes, regular platform (RP) and wide platform (WP).
WP is only used in Nobel Brånemark® compatible parts. These abutments require a Final DLC Multiunit (WP) Screw with their 5.0mmD.
DESS® Straight Multiunit Abutment (WP)
RP multiunit abutment tops have a 4.8mmD and use M1.4 screw threads. Systems with this platform type include:
3i Biomet Certain® Low Profile
3i Osseotite® External Hex
Astra EV® Multibase
Blue Sky Bio® (BSB)
BioHorizons® Internal Hex
BioHorizons® External Hex
DESS® Multiunits

Hahn™

Hiossen®
Megagen Anyridge®
Neodent GM®
Nobel Active®
Nobel Brånemark®
Nobel Replace®
Noris Medical®
Compatible Parts
Multiunit abutment tops can be found under On Top of Multiunit Components. These parts fit on top of the connections listed above, in addition to Keystone Dental® Group's Genesis and Prima lines.
Because the Straumann® Screw-retained Abutment (SRA) has slightly different dimensions than the systems listed above, these can be found under On Top of SRA Components.
Scan Bodies
DESS® has two scan bodies available for multiunit RP abutment tops: Lab and Intraoral. Both scan bodies are reusable and autoclavable, while the intraoral scan body can be used in both the mouth and lab scanner.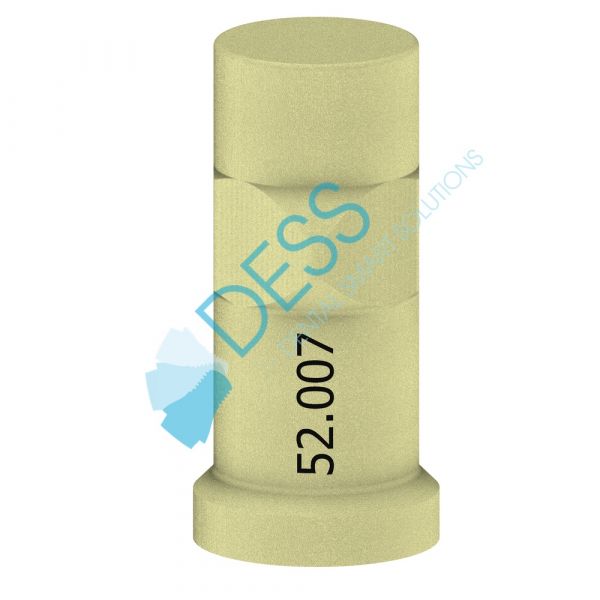 DESS® Multiunit Intraoral (RP) Scan Body
Implant Connections, Screws, & Drivers
Once you've processed your scan, proceed with one of following:
DESS® Non Engaging Multiunit Ti Base (RP)
This item is available in a 6mm or 8mm collar and comes with a Nobel® compatible screw. However, any RP screw will work with this unit.
This Ti Base is compatible with AURUMBase® and comes with an Angulated Multiunit (RP) Screw. An ANGLEBase® Latch Style Driver is required for this unit.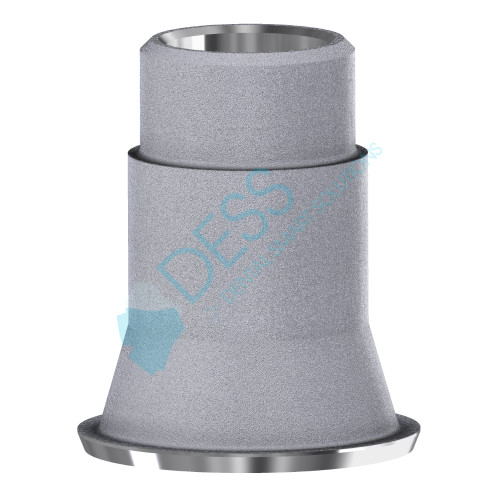 DESS® Non Engaging Multiunit Ti Base (RP) w/6mm collar height
Multi Direct or Multiunit Direct
These are typically used to make a titanium bar that connects directly to the multiunit. The screws and drivers listed below will work for these connections:
DESS® Final and Final DLC (RP) multiunit screws
These come individually or in packs of 10. They require a Nobel® Latch Style Driver, which can be ordered on our website in 24mm or 35mm lengths.
DESS® Angulated Multiunit (RP) Screw
This connects with the Straumann® Torx Driver or our ANGLEBase® Latch Style Driver. The ANGLEBase® driver is only needed when angulating the screw access hole.
This is used with a .048/1.20mm (3i Biomet Certain®, 3i Osseotite®, Megagen Anyridge®) or .048/1.22mm (Hiossen®) hex latch style driver.
This unit works with a .050/1.25mm or .050/1.27mm (Astra® EV, Astra Osseospeed®, BioHorizons® External Hex, BioHorizons® Internal Hex, Camlog®, Dentium®, Zimmer® Internal Hex) driver.
Restorations of this kind require a Final UniAbutment Screw (this comes as a single unit or in a 10-pack) and .050 hex driver.
However, temporary restorations that do not use a Ti Base, along with temporary zirconia crowns and bridges, require a Long Screw for an Angulated Screw Channel (this is sold exclusively as a bulk item in packs of 10) and ANGLEBase® Latch Style Driver.
Although traditional and multiunit screws differ in size, they both must be torqued to 15ncm.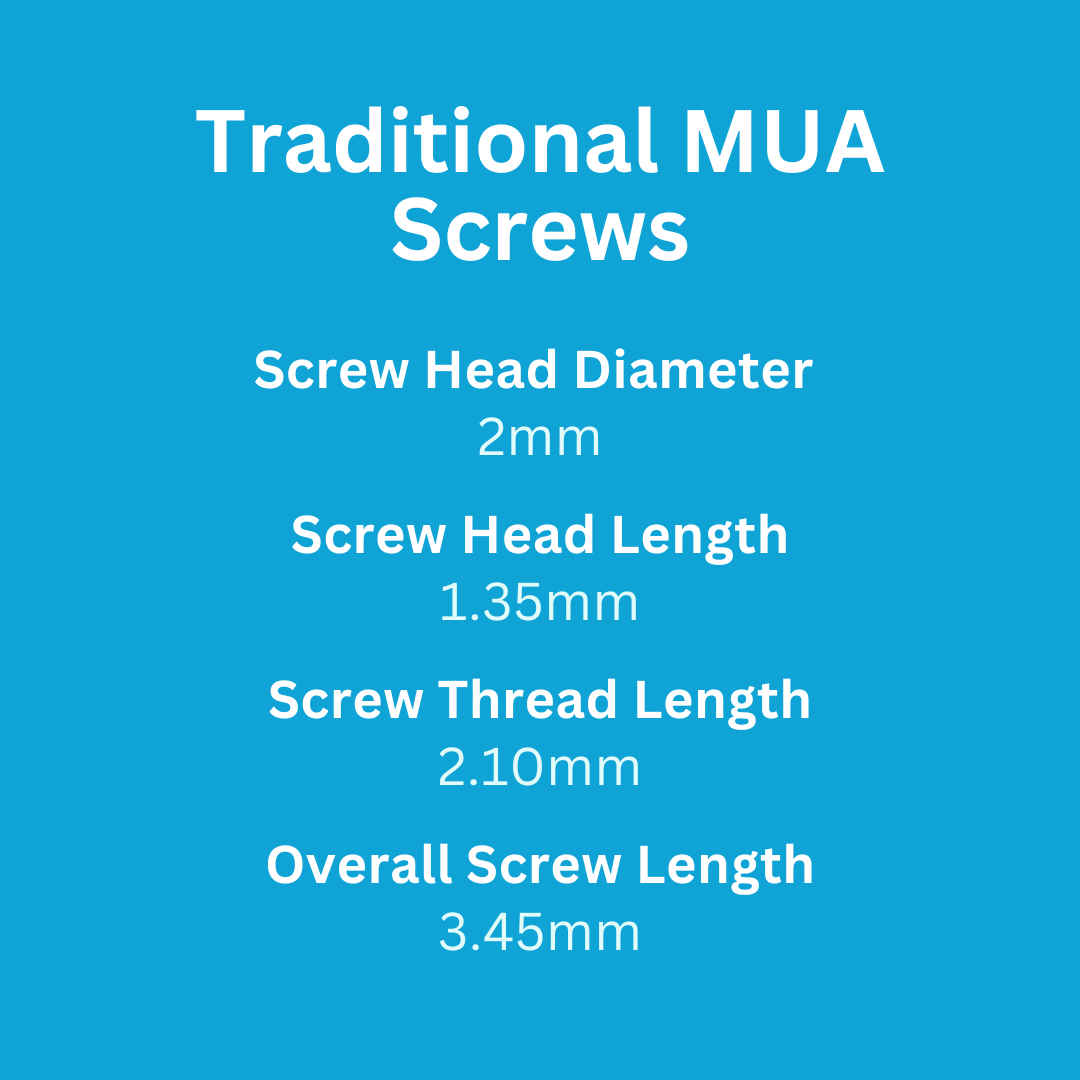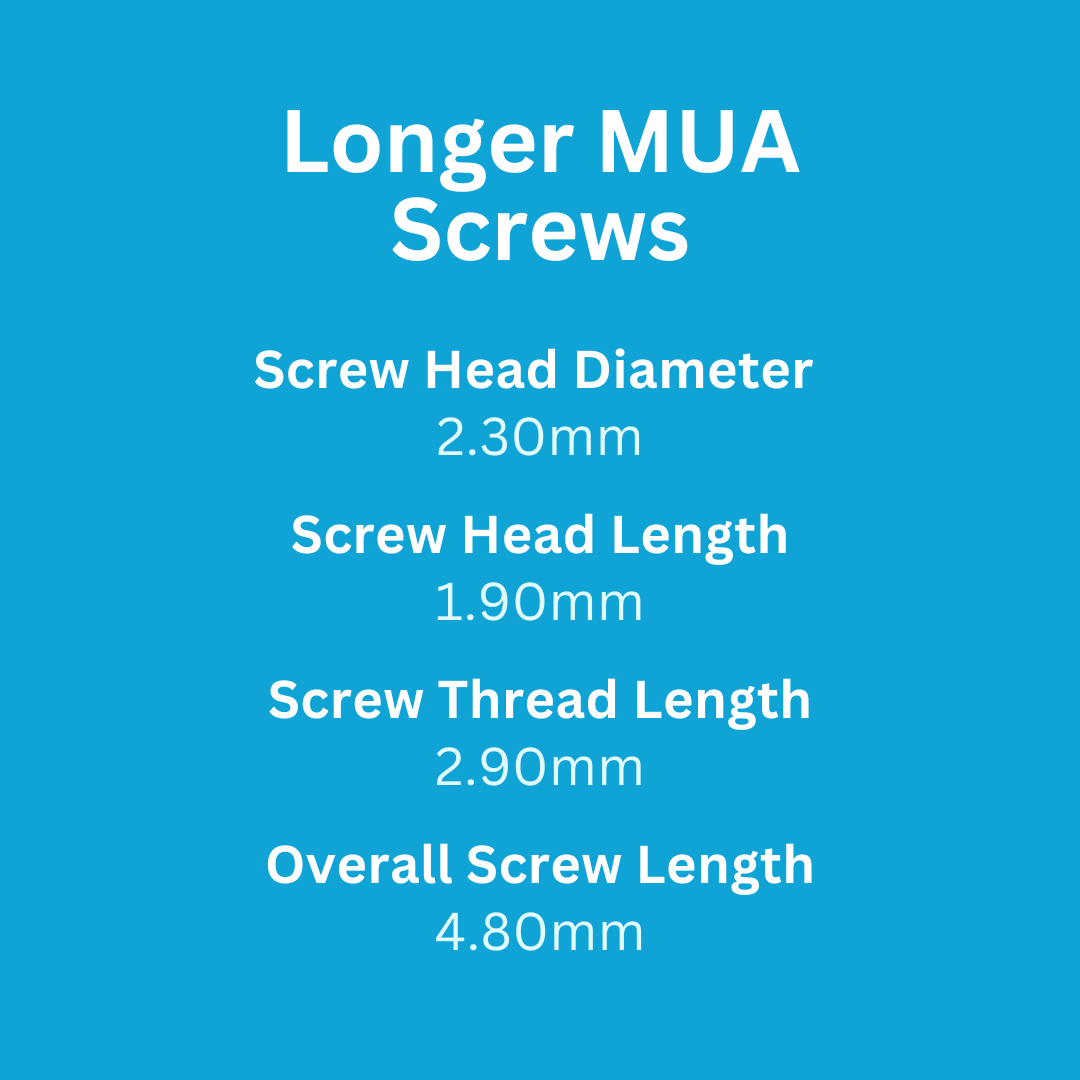 Libraries
DESS® has made digital library files available in 3Shape®, exocad®, and Dental Wings® for the following multiunit top components:
Lab scan body
Intraoral scan body
Scan body on top of engaging/non engaging Ti Bases
Straight and Angled Ti Bases
Direct to MUA using a traditional screw
Direct to MUA using a longer screw with a wider head (straight and angled access holes)
If you would like to purchase a multiunit abutment or multiunit abutment top in bulk, contact orders@dess-usa.com.